What are you looking for?
FurReal Lion King Mighty Roar Simba
FEATURES
Includes FurReal Simba plush, play treat, and instructions.
Simba loves to say phrases from the movie, challenge you to roaring contests, and lean back to show you he's ready to play
Simba responds to sound and has 100+ sound and motion combinations
Pat him on the head -- who knows what he'll say or do? Talk to him, roar at him, and watch him react!
Mighty Roar Simba responds when you feed him his grub on a stick (as he likes to say, "Slimy, yet satisfying!"
Batteries required: 4 x C (not included)
PRODUCT DESCRIPTION

The Disney The Lion King Mighty Roar Simba Interactive Plush Toy embodies all the fun, charm, and humor of animation's most famous lion cub – and now he can come along with you on all-new adventures! Roar at each other (who's the loudest?), play together and give him his treat (you may prefer, umm, a different snack for yourself!). And be sure to give your Pride Lands pal lots of hugs… after all, even a king likes to cuddle!
Customers Reviews (
0

)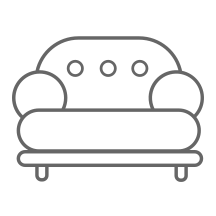 No Comments