What are you looking for?
Dimpl Duo Baby Toys & Gifts for Ages 1 to 2
We don't know when or if this item will be back in stock.
Unique tablet featuring silicone buttons, textured shapes, and words written in Braille

Encourages sensory exploration, tactile learning, shape learning, colour learning, reading skills

On one side, buttons embossed with shapes, labelled with shape names in English and Braille

Other side - Buttons are smooth, colours labelled in English and Braille

Buttons are a delight to feel, push, and pop
ABOUT
Ages 1 to 4 years Textures, colors, shapes, and words - It's an ideal way to get the most out of sensory play! On one side, each silicone button is embossed with a different shape and labeled with its matching word in English and in Braille. Flip it over and this time, the buttons are smooth and the words match the colors!
BENEFITS
A unique, hands-on early-learning experience!

Sensory exploration

Tactile learning

Shape learning

Color learning

Reading skills

Fidget fun!

Features Braille and English

High-quality materials
OUR PROMISE
has always been focused first and foremost on each toy's safety and quality of craftsmanship. All of our creations are tested many times over to ensure both parents and children get the best experience possible. By working with brilliant inventors and designers from all over the world, we are continuously establishing entirely new trends and creating innovative, contemporary designs that are sure to inspire creativity and spark curiosity.
OUR DIFFERENCE
designs unique toys and games that inspire learning through pure, authentic play.

Since 2002, has been a family owned and operated toy company based in the heartland of America - Elkhorn, Nebraska. Our toys have appeared in USA Today, Consumer Reports, Real Simple, The New York Times, and on NBC's Today Show and ABC's Good Morning America.

We utilize safe, innovative materials in combination with modern designs to create toys that are as entertaining as they are educational.
Customers Reviews (
0

)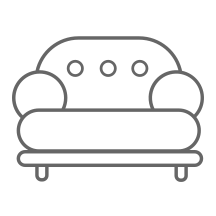 No Comments